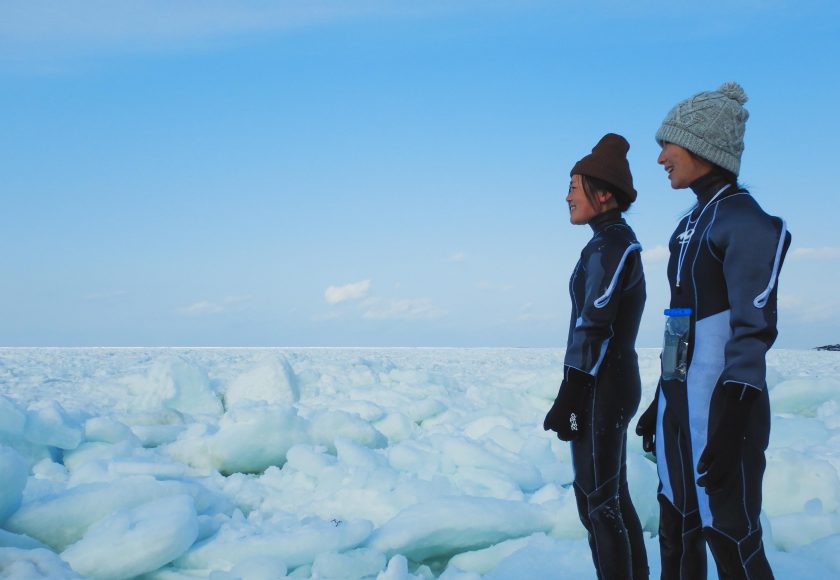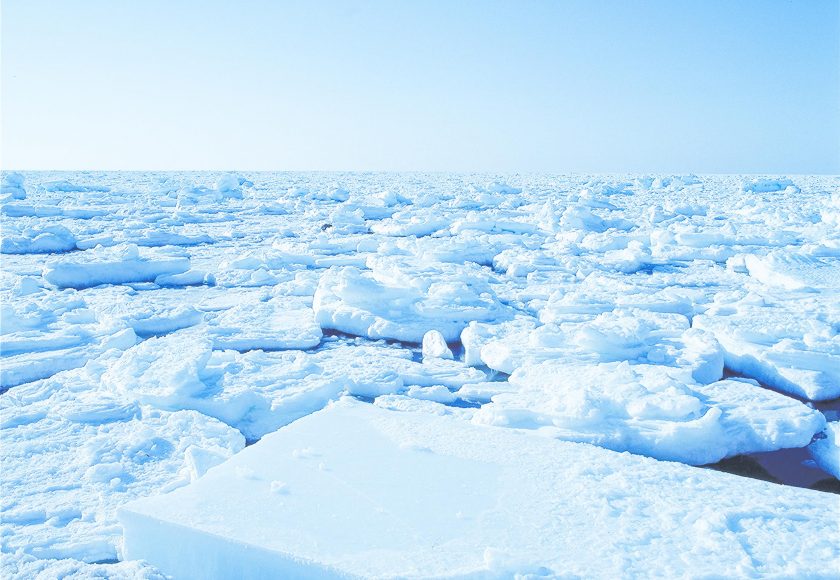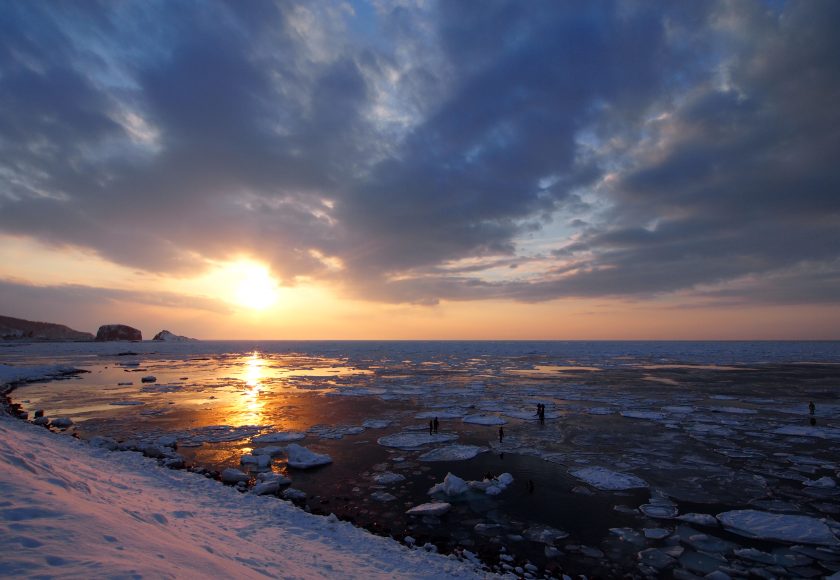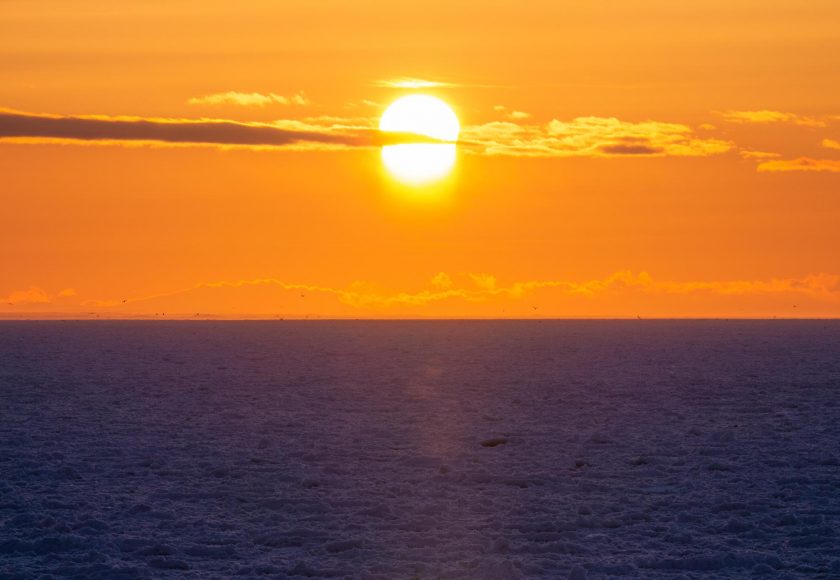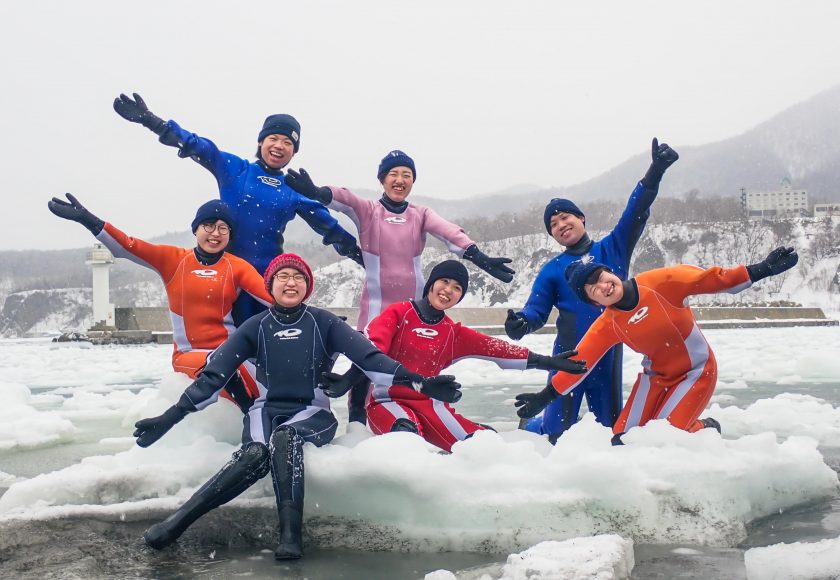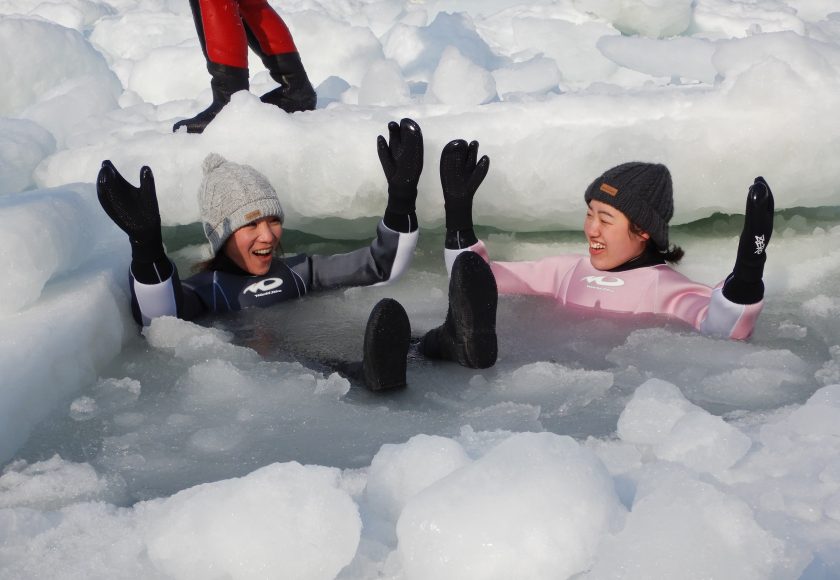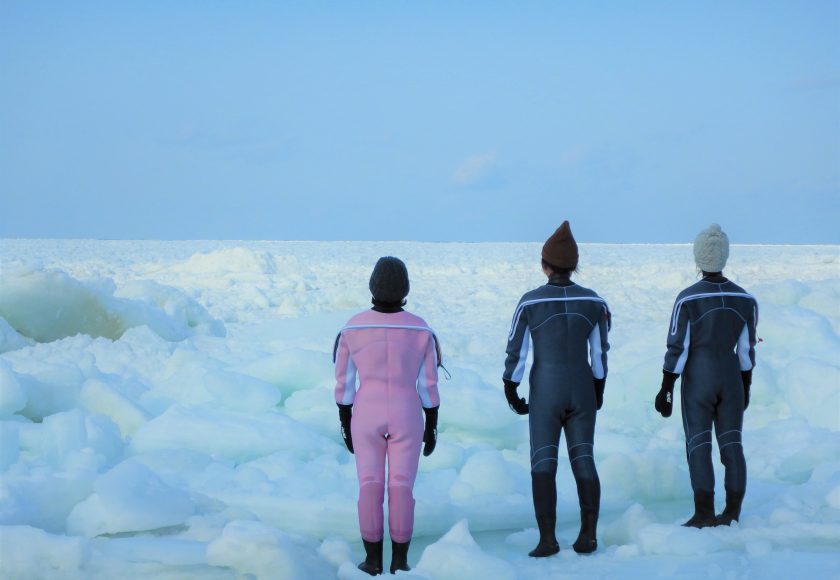 Midwinter season. The seas of Shiretoko are covered in ice.
We will take a walk on this sea of ice wearing winter dry suits, excellent for cold and wet environments.
Drift ice is indispensable for the wildlife living in Shiretoko. Stepping onto this ice means stepping into the icy world of these animals.
By wearing these specialized suits, we can enter into this surreal world where wildlife live hand-in-hand with the ice.
The "Drift Ice Walk" is an activity that can only be experienced in the Utoro area of the Shiretoko Peninsula for only 1.5 months out of the year.
Join us in this tour to experience first-hand, the life of creatures woven by ice. You will be greeted by fascinating sights that you had never imagined before.
The ice floating in the blue sea is like a shining jewel. Its constantly changing shape creates a beautiful and unique scenery every single day. 
Drift ice walking is a unique experience, where you can walk on such drift ice wearing a specialized suit. 
Our guides will lead you through this icy world, while prioritizing safety.
The dry suits you wear on the tour have high heat retention and buoyancy, so you can participate without any worries. 
And the real thrill of our "Drift Ice Walk" is not just the walking! The main theme of our tour is "360°".
In addition to the panoramic views of the ice that spread around you, make full use of cameras and images to take to the skies or dive into the world under the ice. Viewing the world through the eyes of an eagle, and through the eyes of a clione, we will guide you into the world of these animals.
If you are lucky, you may actually be able to meet them.
This is a special tour that can only be experienced 1.5 months during the coldest season of the year when the ice is stable.
Period
From February 1 to March 31, 2023.
*Depending on the conditions of the drift ice, we may cancel the tour.
Time
Morning1 9:00 am - 11:00 am (-2h)
Morning2 10:00am - 12:00 noon (-2h)
Afternoon 3:00 pm - 5:00 pm (-2h)
Price
6000 JPY (for both adults and children)
*We only accept cash payment at the start of the tour.
If you are staying at any of the Kitakobushi group hotels, you can pay at the check-out.
Requirements
You need to meet all the requirements below.
6 years or older.
Height:130cm-190cm
Weight: up to 110kg
Must be able to follow our instructions and take self-safety-control.
Meeting place
We will pick you up at the lobby of your accommodation or the road station Utoro Shirietoku. (Utoro area only)
Pick up time
The meeting time is different depends on the meeting place you requested.
For detailed meeting time, please confirm below.
Detailed Meeting Time
-People who chose "Your Accommodation"-
*Yuhino Ataru Ie ONSEN HOSTEL/KIKI Shiretoko Natural Resort/Shiretoko Dai-ichi Hotel/Hotel Shiretoko/
20min before the starting time of the tour
*Shiretoko Village/Shiretoko Hostel Hanare/ Bon's Home/ Shiretoko Pereke/ Kiraku / Shiretoko Lantern/ Ishiyama/ Iruka Hotel/ Shiretoko Noble Hotel/ Shyutyo no Ie/
15min before the starting time of the tour
*Kitakobushi Shiretoko Hotel& Resort/Hotel Kifuu club Shiretoko/
10min before the starting time of the tour
-People who chose "Drive Resting Area, Utoro-Shirietoku"-
15min before the starting time of the tour
We may not be able to make the agreed pick-up time due to other guests' situations.
Booking
Please book by 9:00 pm of the day before the tour day you would like to join.
Head:
Woolen hat
Shirts:
Fleece, Sweater
Thermal Inner Layer (Please prepare long-sleeve / thick fabrics according to temperature)
**Due to the dry suits' sealing properties around the neck, pease refrain from wearing hooded items and thick turtlenecks.
**Please refrain from wearing long-haired fleece and down jackets as there is a risk of it getting caught and damaged.
Bottoms:
Warm pants
Thermal Inner Layer
**Due to the dry suits, Please prepare Regular Fit Pants or Slim Fit Pants.
**Please refrain from wearing skiwear and any wide‐legged pants.
Shoes:
not specified - Shoes are integrated in with the dry suits.
Socks:
Long / Thick socks
**When wearing a dry suit, we will ask you to tuck the hem of your pants inside your socks, so a long pair of socks is advised.
Precautions regarding clothing:
Please remove all watches and accessories as they may be lost during the tour, or damage the dry suits.
Similarly, in order to prevent damage to the dry suits, please cut your nails in advance.
If you have long hair, please remove any hairpins and clips, and tie your hair up with a hair tie instead.
Belongings:
Belongings and valuables other than waterproof cameras and waterproof mobile phones, cannot be carried during the tour. 
Please participate with the minimum required luggage. 
Please note that luggage cannot be stored.
Tour Conditions:
Depending on the landing condition of the drift ice, the tour may come with the condition; "near the coast". In addition, the tour may be cancelled due to the movement of the ice or possible stormy weather conditions. 
In the event of cancellation due to unforeseen circumstances, we will contact you in advance. If there is no contact from your end, we will assume that the tour will be held as planned. Please make preparations accordingly.
In addition, if the weather or drift ice conditions suddenly change during the tour, please understand that we may decide to cancel the tour with safety in mind. 
Regarding rental equipment/clothing:
Waterproof suits will be provided during the program, but clothes may still get wet in rare cases. 

On ice, the apparent temperature may reach -20 degrees. Although you will be wearing a dry suit designed for wet and cold conditions, please wear warm clothes underneath.
Regarding tour participants:
This tour requires physical strength equivalent to that of hiking. In addition, this tour is intended for "persons who can take care of themselves" on ice. 

There is always a risk of falling or injuring due to stepping through the ice or slipping on ice, so please participate with that in mind, within your skill level, especially elderly guests.

Although you will wear dry suits with great heat retention during the tour, please note that the apparent temperature on ice may reach -20 degrees, and you may come in contact with the freezing water. In particular, if you have a serious illness such as heart disease, please get written consent from your doctor before participating. 
Other Notes
For safety management, please move as a group during the tour.

There is no restroom and hand-wash station during the tour (portable toilets will be provided). Please be sure to relieve yourself beforehand.

Due to the tour being held outdoors, there will always be unforeseen risks that we cannot prepare for. Please keep that in mind and participate in perfect physical condition. If you are not feeling well, please reconsider if necessary, and participate within a reasonable range. 

If you are late for the meeting time and place on the day of the tour, please note that it may be cancelled as it will cause inconvenience to other customers.

On the day of the tour, please cooperate with checking your temperature and confirming your physical condition during reception.
For more information please refer to "Frequently Asked Questions".